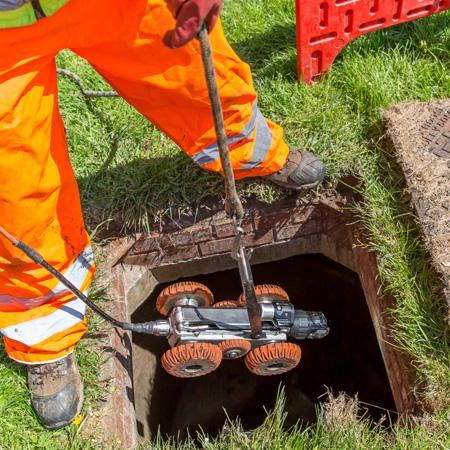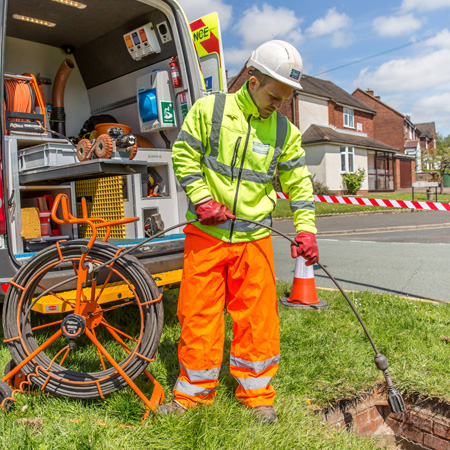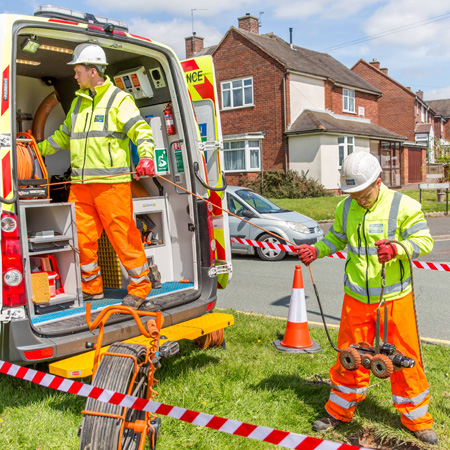 CCTV Drainage Surveys / Floating CCTV Surveys / Pre Mortgage Survey / Pre and Post Build Over Surveys / Insurance Survey Work (domestic owners)
About Our CCTV Underground Surveys
Underground Surveys utilises market leading, camera systems and software to carry out remote controlled, structural CCTV drain surveys, which can work in various atmospheric environments, using intrinsically safe, camera equipment.
Our survey will provide you with clear analysis of the pipeline condition, including diameter size/flow/material details. All our CCTV units are fully kitted out with the highest standard specification and technology which allow us to carry out the full aspect of a CCTV drain survey from as small as 100mm to the largest of culverts, pan and tilt surveys are available.
CCTV surveys offer incredible accurate visual reports on both the contents inside the pipe and the condition of the pipe itself.
Main Uses of CCTV Drain Inspection Systems
Remote-Controlled Surveys
Walk and float through surveys
Help and locate buried manhole chambers
Survey and trace buried pipelines above ground
Key Benefits of using CCTV For Drain Inspections
No expensive trial dig ups
Help to clean pipelines and culverts
Can be used in flood prevention programmes
Can help provide repair programs and advice
Can survey more than 200m of pipeline from only one access point
Uses pan and tilt facility to inspect every inch of pipe in minute detail
Explosion proof cameras available
CCTV float design for large diameter culverts with high water levels
Types of CCTV Underground Surveys We Undertake
Underground Surveys provides comprehensive and professional CCTV Drain Inspection Services to an impressive array of companies and organisations utilising the latest systems and hardware.
CCTV Drain Surveys
Our CCTV Drain surveys are carried out with the most advanced state of the art technology, using the highest quality and specification plant and equipment to ensure that we can offer the highest standard of service to both our commercial and domestic customers. All the survey work we undertake is in accordance with our UKAS accreditation and the ISO 9001 Quality Standard.
We can CCTV survey most pipe size, call for details.
Pollution Investigations
The demand for Pollution Tracing Surveys has grown over recent years as the water industry steps up the focus on pollution caused by misconnected appliances to the surface water sewer network. We are always happy to adapt the specification for this type of survey to meet our client needs.
Man Entry Surveys
Although quite rare thanks to the vast improvement in CCTV inspection technology over recent years, there are still inspection situations where the traverse of a large sewer or tunnel remains the only suitable option to gain useful data on the condition of the structure.
Manhole Surveys
Manholes provide useful direct access to drains below. Unfortunately, in some cases manhole inspections are difficult and almost impossible without the right equipment and training. We can carry out these manhole surveys anywhere in the UK for Water Companies, Highway Authorities and the Environment Agency.
Connectivity Surveys
We are able to offer specialist utility teams that use a variety of the latest electromagnetic and (GPR) radar techniques, to locate all known services, isolate individual cable runs and identify unexpected subterranean voids. From tracing a single utility to scanning and mapping an entire site.
Septic Tank Surveys
Cable Ducting Inspections
Flooding Investigation
The purpose of a flood investigation survey is to collect information to inform an investigation into why property or land flooding happened, and where possible, what might be done to reduce the chance of flooding happening again. Using our advanced CCTV drainage camera systems and van packs, we can identify the defect and deal with the problem accordingly.
Domestic Surveys
Our CCTV surveys are most commonly used to assess issues including:
Damage due to root ingress
Pipe displacement and collapsed drains
Pipes blocked by debris and scale
Floating CCTV Surveys
Using our specialised floating device raft we can survey large diameter culverts which run with high water levels that in some cases cannot be surveyed using the standard remote controlled crawler system.
Call or Click Below For a Free, No Obligation Quote On Any of Our Services